Furious Gold Pack 8 Activation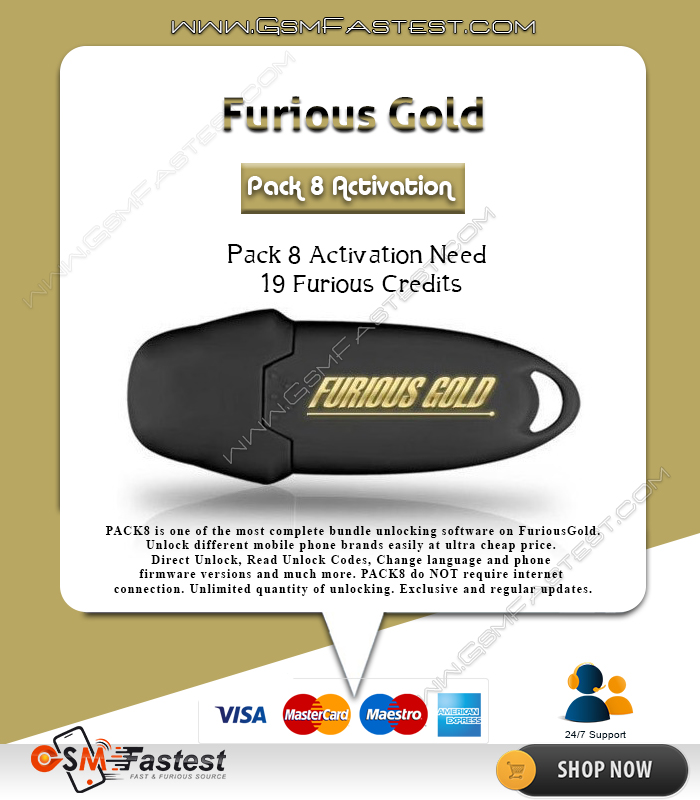 Furious Gold Pack 8 Activation
Furious Gold Pack 8 allows you to unlock and change language in supported MTK-based Alcatel, Motorola, SFR and Vodafone cell phones
Furious Gold Pack 8 Activation
Furious Gold Pack 8 allows you to unlock and change language in supported MTK-based Alcatel, Motorola, SFR and Vodafone cell phones
PACK8 is simply the world famous unlocking software for Alcatel MTK phones. Dedicated module specially built for Alcatel MTK phones. Unlocking and repairing made easy for professional unlockers. Alcatel MTK Phone Unlock Tool allow you differents operations on Alcatel MTK phones such as Read Unlock Codes, Change language and phone firmware versions. PACK8 also include a Unlock Calculator by IMEI to generate unlock codes. PACK8 do NOT require internet connection. Unlimited quantity of unlocking. Exclusive and regular updates.
To activate these products, please, provide us with your Furious Gold Box username and serial number while placing an order.
To find your serial number and username please do the following:
Launch Maintenance software
Press "Go Furiousgold Support Area"
Choose "Dashboard"
Select "Account Info"
As soon as credits deposited on your account, we will send you an email.
How to activate:
This is A Developer Product we are selling as a global reseller
Before Buy Must Read Developer's Terms & Conditions.
This Purchase is Not Refundable in any Case.
Be the first to review this product
---
Related Products