Furious Gold Pack 12 Activation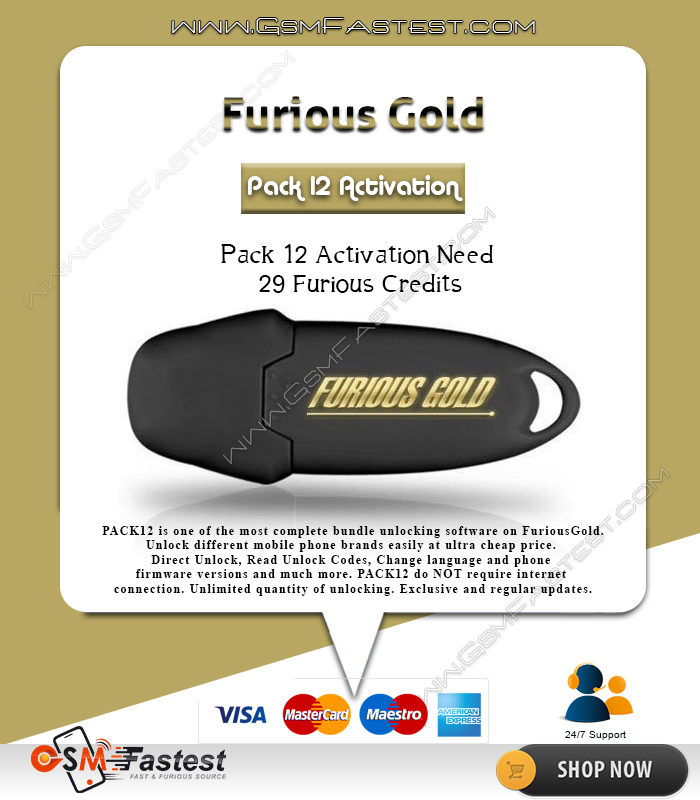 Furious Gold Pack 12 Activation
Furious Gold Pack 12 contains Samsung Code Reader module, developed for Samsung, Motorola cell phones * unlock and repair. Supports Samsung Factory Unlock Code Reader & Direct Factory Unlock.
Furious Gold Pack 12 Activation
PACK12 is the perfect choice of unlocking software for Samsung phones. Dedicated module specially built for Samsung phones. Unlocking and repairing made easy for professional unlockers. FuriousGold Samsung Unlocker allow you differents operations on Samsung phones such as Direct Unlock, Read Unlock Codes, Change language and phone firmware versions and much more. PACK12 do NOT require internet connection. Unlimited quantity of unlocking. Exclusive and regular updates.
SAMSUNG CODE READER unlock and repair Samsung mobile phones. It is simply the world famous unlocking software to unlock Samsung. With over 8 years of incredible and regular updates on FuriousGold, this is the most advanced mobile phone unlocking tool on the market for professionals.
Download and install SAMSUNG CODE READER for FuriousGold on your computer, connect the mobile phone to an original cable or to the FuriousGold cable provided (if you are using the box), from the supported models in the list below and enjoy easy unlocking for your customers instantly.
With over 10 millions of devices unlocked since 2004 FuriousGold is a must have tool for every mobile phone store | repair shop owners in any country. Wonder how simple it is to make money by unlocking mobile phones using FuriousGold ? Please take a look at over 12000 successful jobs done reported by our customers directly.
Supported Features:
Direct Unlock
Read security
Read unlock codes from phone
Repair imei
Repair phone firmware to get back to original
Reset phone code and settings to factory default
Permanent official factory unlock
Write Flash
To be able to use this software you need the FuriousGold hardware with PACK12 activated
SAMSUNG CODE READER is a Exclusive tool available ONLY on FuriousGold. You simply can NOT find this software anywhere else.
Easy Unlock Samsung
SAMSUNG CODE READER is working OFFLINE. You do NOT need to have an internet connection to use this software once it is installed.
SAMSUNG CODE READER is UNLIMITED, you can unlock any quantity of phones.
SAMSUNG CODE READER is working without credits, logs or any of this kind. Completely free after your purschase.
SAMSUNG CODE READER including dedicated support area with over 25GB of precious data
SAMSUNG CODE READER including 12 months FREE updates and support. Once the support is expired you can renew it directly from your account for a small annual fee. If you do not like to renew the support you will still be able to use your FuriousGold hardware but you will not be able to enjoy the newest updates.
Secure and Easy access to support area in one click. You do not have to remember any password. It is already saved in your FuriousGold device.
NEW ADD ON:
Read factory unlock codes from newest Samsung mobile phones
Direct factory unlock for newest Samsung mobile phones
Original Unlock by UART Port (DO NOT DAMAGE THE WARRANTY)
NO ROOT NEEDED. Official Samsung Factory Unlock
Require extra credits
To activate these products, please, provide us with your Furious Gold Box username and serial number while placing an order.
How to find your serial number and username
To find your serial number and username please do the following:
Launch Maintenance software
Press "Go Furiousgold Support Area"
Choose "Dashboard"
Select "Account Info"
How to activate:
This is A Developer Product we are selling as a global reseller
Before Buy Must Read Developer's Terms & Conditions.
This Purchase is Not Refundable in any Case.
Be the first to review this product
---
Related Products