Furious Gold Pack 1 Activation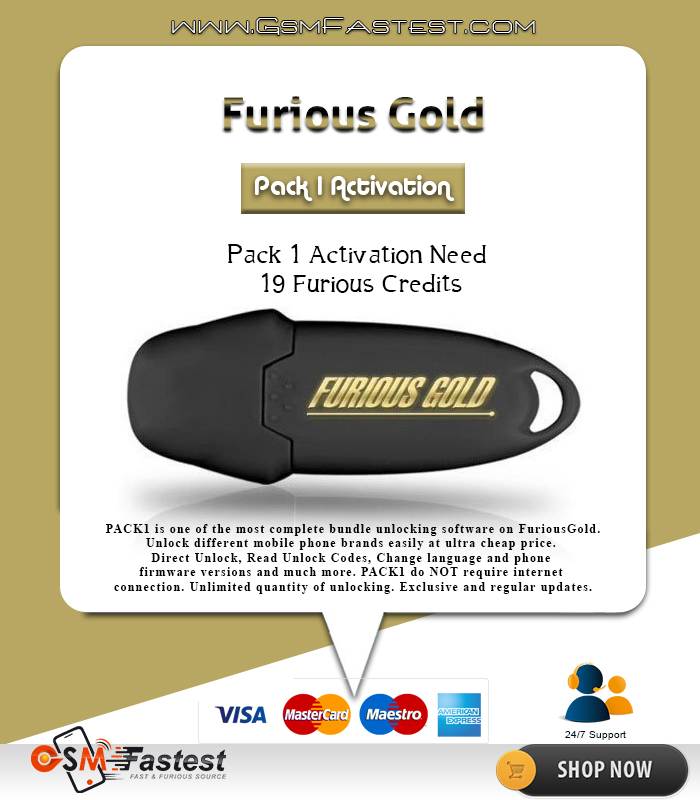 Furious Gold Pack 1 Activation
Furious Gold Pack 1 allows you to perform unlimited unlock, flash, repair and other operations with Alcatel, BlackBerry, LG, Samsung and other mobile phones .
Furious Gold Pack 1 Activation
Furious Gold Pack 1 Supported Modules:
Alcatel VLE 5/6
AMOI
BenQ 1
BenQ 2
BlackBerry 6/7 series
DBTEL/EMBLAZE
DRAGON/ARIMA
GR 1000
LG 82xx series
LG M1
LG M2
LG SEMC
LG TI-Infineon
LOBSTER 485
Microsnapper
Motorola
NEC 344i
NTP
O2X1
ONDA
Panasonic A10X
Pantech
Philips-based Alcatel cell phones
QFG
Sharp SEMC
Siemens SEMC
TOSA
Toshiba TS2i
Toshiba TS605
Toshiba TS608
VK WHAT3E series
How to find your serial number and username
To find your serial number and username please do the following:
Launch Maintenance module
Press "Go Furiousgold Support Area"
Choose "Dashboard"
Select "Account Info"
How to Activate.
This is A Developer Product we are selling as a global reseller
Before Buy Must Read Developer's Terms & Conditions.
This Purchase is Not Refundable in any Case.
Be the first to review this product