Furious gold credit 10 Credits Pack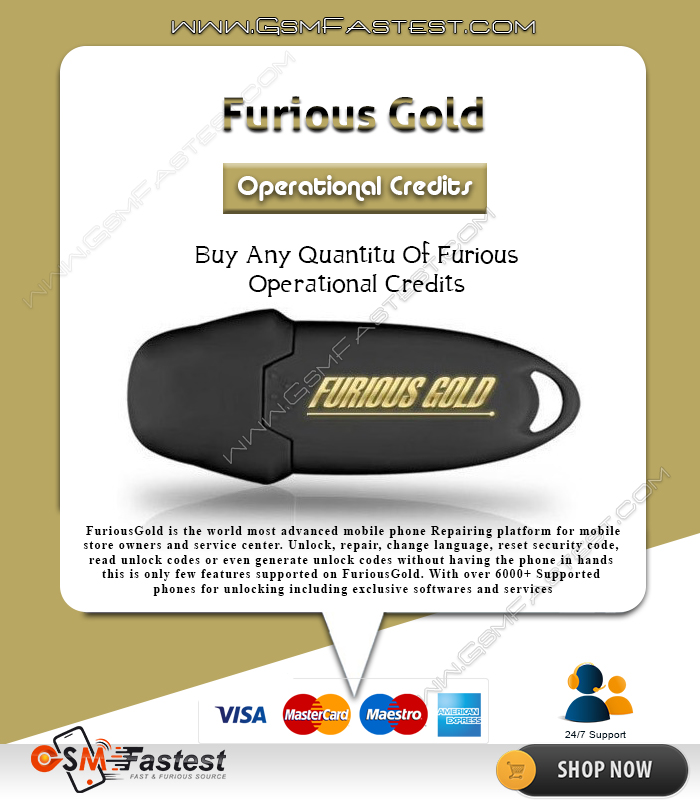 Furious gold credit 10 Credits Pack
Furious Server Credits is a software add-on for Furious Gold Box. Furious Server Credits extend the list of supported cell phone models and renew user's access to the support area.
Furious gold credit 10 Credits Pack
Furious Gold Supported Modules/Phone Brands: *
Furious Gold Pack 1 Supported Modules:
Alcatel VLE 5/6
AMOI
BenQ 1
BenQ 2
BlackBerry 6/7 series
DBTEL/EMBLAZE
DRAGON/ARIMA
GR 1000
LG 82xx series
LG M1
LG M2
LG SEMC
LG TI-Infineon
LOBSTER 485
Microsnapper
Motorola
NEC 344i
NTP
O2X1
ONDA
Panasonic A10X
Pantech
Philips-based Alcatel cell phones
QFG
Sharp SEMC
Siemens SEMC
TOSA
Toshiba TS2i
Toshiba TS605
Toshiba TS608
VK WHAT3E series
Furious Gold Pack 2 Supported Modules:
BENQ 1
BENQ 2
HUAWEI Q
KONKA
NEC 2G 3G M2
NEWGEN
PANASONIC
QUALCOMM
TREO 6x0
VIRGIN LOBSTER 544
VITEL
VK MOBILE
Furious Gold Pack 3 Supported Modules:
CALY
DISNEY
LG M3
Locosto Alcatel
Locosto Sagem
MTK Alcatel
MTK ONE
Sagem Infineon
SE FUT FGB
Siemens SGOLD/SGOLD2
VHGP
Vodafone Infineon
ZTE A39
Furious Gold Pack 4 Supported Modules:
BlackBerry Code Reader
BlackBerry Smart Tool
Furious Gold Pack 5 Supported Phone Brands:
Alcatel
Motorola
ZTE
LG
Dell
Huawei
Acer
Amoi
Toshiba
Foma
HiSense
Palm
Sharp
MobiT
Modelabs
Option
Furious Gold Pack 6 Supported Modules:
Broadcom Code Reader
HTC Beast Qualcomm/OMAP
MTK Code Reader
MTK Keygen
Furious Gold Pack 7 Supported Modules:
Huawei Android Unlocker
Huawei IMEI Repair
FC HUAWEI
Huawei E5372 CUSTv unlocker
PACK7 Huawei Reset FRP Credits
1 Pack7 Huawei Reset FRP Credit = 10 Furious credits
10 Pack7 Huawei Reset FRP Credits = 40 Furious credits
Furious Pack7 activated and Huawei FC Module are required to use this service.
Features: Allows resetting Google factory reset protection (FRP). Note: it doesn't work on bricked phones.
Activation procedure: After you get Furious credits added to your account you need to activate Huawei Reset FRP Credits Pack. For that purpose perform the following steps: run "FuriousGOLD Maintenance Tool" software, press "Go Furiousgold Support Area" button, then click "Products", choose a required pack and press "Buy it now" button.
Furious Gold Pack 8 Supported Phone Brands:
Alcatel
Motorola
SFR
Vodafone
Furious Gold Pack 11 Supported Phone Brands:
Furious Gold Pack 12 Supported Modules:
Furious Gold Pack 13 Supported Modules:
BlackBerry Module
Samsung Module
Nokia Lumia Module
Furious Gold Pack 14 Supported Modules:
To activate these products, please, provide us with your Furious Gold Box username and serial number while placing an order.
To find your serial number and username please do the following:
Launch Maintenance software
Press "Go Furiousgold Support Area"
Choose "Dashboard"
Select "Account Info"
This is A Developer Product we are selling as a global reseller
Before Buy Must Read Developer's Terms & Conditions.
This Purchase is Not Refundable in any Case.
Be the first to review this product