DC / HCU Unlocker 50 Credits to dongle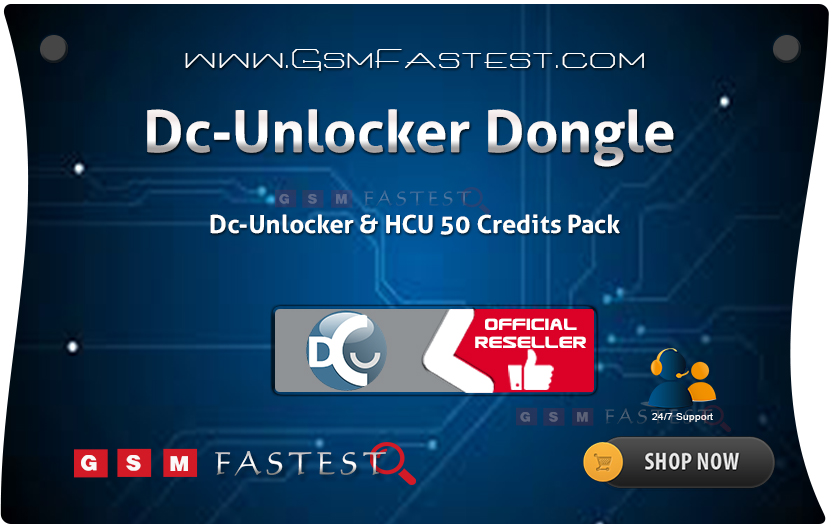 DC / HCU Unlocker 50 Credits to dongle
DC-Unlocker Server Credits - the first universal data card unlocking solution.
*FULL activation for Vygis/Vpower dongles costs 99 credits (50 credits on balance after activation)
*LITE activation for Vygis/Vpower dongles costs 69 credits (0 credits on balance after activation)
After credits have been added to your account, you will have 1 month of access to hcu-client.com
DC-Unlocker services are not time-limited.
Note that these credits can not be used to prolong your access to server.
For access prolongation you need to purchase 1 year support activation or 2 year support activation.
Credit consumption for dongle users
Credit consumption for users without a dongle
Other activations, which can be added using DC-Unlocker Server Credits
Credits could be added on serial number or username.
Please provide us with the serial number of your dongle, while making an order, if you like to add credits on your dongle.
Please provide us with the desired username, if you like to add credits on the account.
After successful transaction we will send you details on your email address.
DC-Unlocker Updates
DC-Unlocker v..1308. FRP Unlock added for: *
Huawei Ascend Y6 Pro:TIT-AL00, TIT-CL10, TIT-L01, TIT-L02, TIT-U02, TIT-TL00;
Huawei G9:VNS-DL00;
Huawei P9 Lite:VNS-L01, VNS-L02, VNS-L03, VNS-L11, VNS-L21, VNS-L22, VNS-L31, VNS-L53, VNS-TL00;
Huawei Honor 4C Pro:TIT-L01, TIT-TL00;
Holly2 plus:TIT-AL00, TIT-CL10;
Huawei G Power:TIT-U02;
HUAWEI Y3II:LUA-L01, LUA-L02, LUA-L21;
HUAWEI ECO:LUA-L03, LUA-L13, LUA-L23.
DC-Unlocker 1.00.0481 (30.04.2010)
Unlock support added for the following modems: *

Huawei E181
ZTE MF112
ZTE MF645
Option GTM 380
ZTE MF100 with customized firmware MTS BD_MTSUAP671A1V1.0.0B01

Unlock support added for the following phones: *

ZTE T100 Belorussia Life
ZTE TMN U122
ZTE T106
ZTE F107

Improved Huawei detection, fixed few bugs
Added Russian to the software
Download DC-Unlocker 1.00.0481
DC-Unlocker Features
DC unlocker is a specialized for data card unlocking program
It is fast ( takes 5 - 60 seconds to unlock), handily to use and functional program with user friendly interface
No cables or adapters required for unlocking. The data card can be simply unlocked in the same notebook with a PCMCIA or Express Card socket
New models are added constantly
No need to select any COM port, auto detect function
Free updates
DC-Unlocker Supported Models: *
DC-Unlocker support for 4G Systems
DC-Unlocker support for Dell
DC-Unlocker support for Huawei modems
Huawei D12HW
Huawei D21HW
Huawei D31HW
Huawei E181
Huawei E1152
Huawei E1550
Huawei E1550 Kyivstar/MTS
Huawei E1552
Huawei E1553
Huawei E1556
Huawei E156 / E156B / E156C / E156G
Huawei E160 / E160G / E160X
Huawei E161
Huawei E1612
Huawei E1630
Huawei E166 / E166G
Huawei E169 / E169G
Huawei E170
Huawei E172
Huawei E1750
Huawei E1752
Huawei E1756
Huawei E176
Huawei E1762
Huawei E180
Huawei E1820
Huawei E182E
Huawei E219
Huawei E220
Huawei E226
Huawei E230
Huawei E270
Huawei E272
Huawei E510 TV
Huawei E5830/E583x/E5836/E5837 and others
Huawei E618
Huawei E620
Huawei E630
Huawei E630+
Huawei E660
Huawei E800
Huawei E870
Huawei E960
Huawei E970/B970 router
Huawei EG162 / E162G
Huawei EG602 / EG602G
Huawei EM770 Module
Huawei MomoDesign MD-@ HSUPA
Huawei UMG181
Huawei Vodafone E3735
Huawei Vodafone K2540
Huawei Vodafone K3520
Huawei Vodafone K3565
Huawei Vodafone K3715
Huawei Vodafone K3765
Huawei Vodafone K4505
DC-Unlocker support for Huawei phones
Huawei Plusfon 603i
Huawei U120, U120e, 401i
Huawei U121
Huawei U1220s
Huawei U1250
Huawei U1280
Huawei U1310
Huawei U5700/ U5707
Huawei U7510
Huawei U7510s
Huawei U7517
Huawei U7519
Huawei U1251
Huawei TMN U125 (beta)
Vodafone 715
Vodafone 716
Vodafone 720
Vodafone 725
Vodafone 736
Vodafone 810
Vodafone V830
Vodafone 840 3G Touch
DC-Unlocker support for INQ Phones
INQ Mini 3G
INQ1 SkypePhone3
iNQ Chat 3G
DC-Unlocker support for Longcheer
Longcheer WM610
Longcheer WM66
Longcheer WM71
DC-Unlocker support for Maxon
BigPond Maxon modem BP3-USB
Telstra Maxon turbo modem USB3-8521
Maxon BP3-EXT
DC-Unlocker support for Micromax
DC-Unlocker support for MyWawe
MyWawe Momo Design MD-@ Revo
DC-Unlocker support for Novatel Merlin
Merlin U530
Merlin U630
Merlin U740
Merlin XU870 (Express card)
Merlin Expedite EU740
Merlin Expedite EU870D
Ovation MC930D (beta)
Ovation MC950D
Ovation MC998D
Merlin U730
Ovation MC990D
Merlin X950D ExpressCard
Novatel MiFi2352
DC-Unlocker support for Option Globetrotter
Globetrotter EDGE
Globetrotter 3G Fusion
Globetrotter 3G Fusion Quad Lite
Globetrotter 3G Fusion+ EMEA
Globetrotter GT MAX 3.6
Globetrotter GT MAX 7.2
Globetrotter Express 7.2
Globetrotter Globesurfer ICON
Globetrotter 3G+ HSDPA
Globetrotter Globesurfer ICON 7.2
Globetrotter EDGE COMBO
Globetrotter HSDPA 7.2 (GT0201,GT0202)
Globetrotter ICON 225
Globetrotter GTM378 module
Globetrotter GPRS (first generation)
Globetrotter GT MAX HSUPA (GX0301)
Globetrotter GT ULTRA (GX0302)
Globetrotter Express ULTRA (GE0302)
Globetrotter Express HSUPA (GE0301)
Globetrotter GTM382 module MO40x
Option iCON 431 (GI0431, T-Mobile 530)
Option iCON451 (GI0451)
Option GTM380
DC-Unlocker support for Onda
Onda MSA501 HS
Onda MSA405 HS
DC-Unlocker support for Sierra Aircard
Sierra Aircard AC850
Sierra Aircard AC860
Sierra Aircard MC8755 / 8755V
Sierra Aircard AC875
Sierra Aircard MC8775 / 8775V
Sierra Aircard AC875u
Sierra Aircard MC8765
Sierra Aircard MC8780
Sierra Aircard MC8781
Sierra Aircard AC880
Sierra Aircard AC880u
Sierra Aircard AC881
Sierra Aircard AC881u
Sierra Aircard AC880e
Sierra Aircard AC881e
Sierra Wireless USB 306
Sierra Wireless USB 307
DC-Unlocker support for SkypePhone AMOI
SkypePhone AMOI WP-S1
SkypePhone AMOI WP-S2
Amoi iNQ1 (SkypePhone 3)
Orange New York
Orange Berlin
DC-Unlocker support for ZTE
ZTE AIKO 82D
ZTE F107
ZTE MF100
ZTE MF100 Kyivstar
ZTE MF110
ZTE MF112
ZTE MF332
ZTE MF616
ZTE MF620
ZTE MF622
ZTE MF622+
ZTE MF626
ZTE MF627
ZTE MF628
ZTE MF632
ZTE MF633
ZTE MF633+
ZTE MF636
ZTE MF637
ZTE MF645
ZTE MF662
ZTE MF668 (21 Mbit)
ZTE T100
ZTE T106
ZTE TMN U122
ZTE Vodafone K3520-Z
ZTE Vodafone K3565-Z
ZTE Vodafone K3765-Z
* Developer provides support only for those phones which are on the list of supported. Not all servicing features can be applied to some supported models, due to difference of hardware / software versions. Complete list of supported models you can find on the official product page, or on the GSM forum.
Detailed information on the further use of the virtual product will be sent to your email, specified during registration, when we confirm your payment and process your order.
This is A Developer Product we are selling as a global reseller
Before Buy Must Read Developer's Terms & Conditions.
This Purchase is Not Refundable in any Case.
Be the first to review this product